Your Corporate Minute Book
Every business entity needs a Corporate Minute Book. It can be formal or informal. Even though you can use a binder from Walmart and make a book up yourself using the Minute Book Samples below, we suggest you buy one from CorpKits. It is much more professional.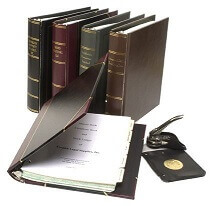 Corpkit Legal Supplies has been providing the highest quality Corporate Kits and supplies to lawyers, entrepreneurs, and the professional community since 1996. They were selected #1 Best Corporate Kit Provider by the Connecticut Law Tribune and the New York Law Journal.
They offer same day shipping nationwide because all the manufacturing is done on their premises in Islip, New York.
The founders are still involved in the daily activities. We met with one of the owners and recommend them. If you have questions about the kits, their Toll Free Phone Number is at the bottom of the link. Check them out at: http://certorders.com/DiscountRA/DiscountRegisteredAgents.html
Minute Book Samples
It is our philosophy to provide you with what you need, not with what additional services we might sell you. It is our dedication to and reputation for a superb rating for client service and integrity that has allowed us to grow for over 15 years. Our main focus is on service not sales. Wyoming Discount Registered Agent has been a family owned and operated business since 2001. As many other Wyoming companies have experienced, you can trust Wyoming Discount Registered Agent to handle all of your Registered Agent and Registered Office needs! Call us today at 1.775.782.6587.
Minute Book Samples For Corporations
Your company should hold regular meetings to document major decisions that you make. With a corporation, it is required that you hold a Shareholders' meeting and a Director's meeting every year. If you neglect these formalities and your business runs into legal trouble, a court may decide to disregard your corporate status and hold you personally responsible for the corporation's debts. The date, time and location of your Annual Meetings are prescribed in your By-laws. Minutes of Annual Meetings must present a complete, accurate picture of the Corporation's activities. Below are Minute book Samples that you can use to record those meetings.
Sample Annual Meeting Shareholders
Sample Annual Meeting Directors
Minute Book Samples For Limited Liability Companies
Limited Liability Companies should also document major decisions and annual meetings. LLCs have no legally mandated annual meeting requirements. However, it is often advantageous for an LLC to have an Annual Meeting, as the practice can prove beneficial in certain tax and legal scenarios. Recording the meeting minutes will show that members are acting within the scope of their authority, which helps insulate members from personal liability. Below are Minute book samples that Limited Liability Companies can use.